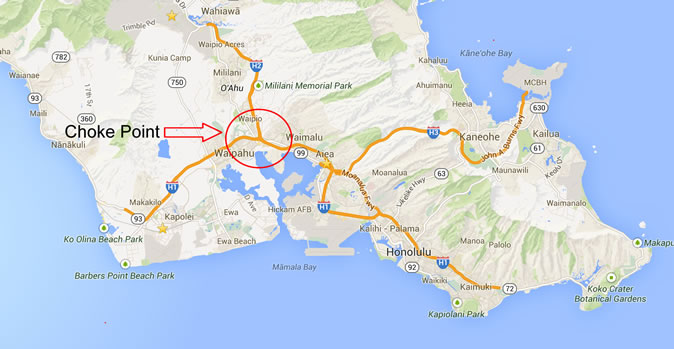 Before moving to Hawaii I heard about two problems: the traffic and the schools. Well I'm here on the island and I'm going to tell you the ground truth. Yes, O'ahu has bad traffic during certain times of day, in certain areas. But it's not all bad!
Why O'ahu Has Bad Traffic
All of the affordable housing on O'ahu is near Ewa Beach, Mililani, and Kapolei, which are on the west side and central part of the island. But most of the jobs are near Pearl Harbor, Hickam AFB, and Honolulu.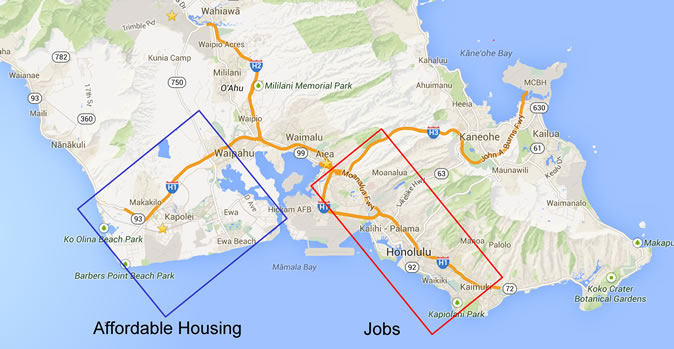 Every morning commuters travel from the affordable housing to their jobs, and back home in the evening. The choke point for this traffic is the H-1 and H-2 merge.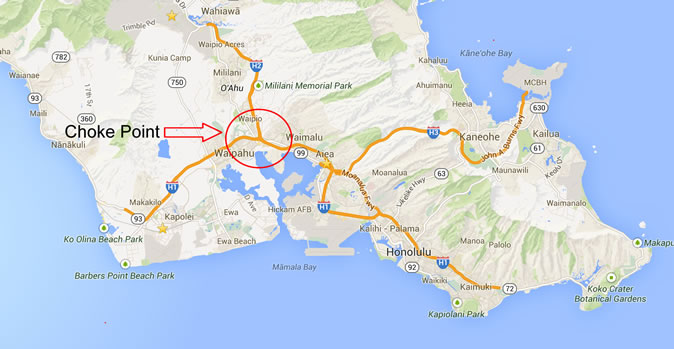 There is little room for accidents or breakdowns on Hawaii's freeways. So a simple flat tire involving a tow track can slow traffic significantly. Since that car takes up an open lane, all the cars have to merge over to get around the stuck vehicle.
Is it always bad?
Here's the good news. Traffic in Hawaii is packed during the morning and evening commutes, but is very clear the rest of the time.
So if you live in Ewa Beach and need to pick up a friend from the airport at 9Am, you will have an easy drive. Likewise, driving on the weekend is fast and convenient to most parts of the island.
The bad traffic is mostly confined to H-1 and the portion of H-2 flowing into H-1.
Choosing a Home Based on Traffic
You only need to be concerned about the traffic if you're considering living in the following areas:
Ewa Beach, Kapolei, Mililani, or Waikiki
AND you're commuting to Hickam AFB, Pearl Harbor, Camp Smith, Fort Shafter, or Tripler Medical Center.
If you're stationed at Schofield Barracks or MCB Kaneohe, you're lucky. Schofield has some great housing near by (Mililani), that is very close to base. MCB Kaneohe has expensive housing nearby, but we'll save that for another article – this is about traffic, and I don't think folks at MCB Kaneohe are stuck in traffic very often.
Morning Commute from Ewa Beach or Kapolei
This commute is known as the worst on the island. It's bittersweet because this is where all the beautiful, affordable homes are! It's a tough drive. Whether it is worth it is up to you.
If you want to beat the traffic for this commute you have to get up early! The traffic pattern works like this:
Before 5:30AM you can drive anywhere on the island with minimal slowdown
At 5:30AM traffic starts to slow on H-1E near exit 7 by Waikele, adding about 10 minutes to your commute
By 6:00AM the traffic slows down by Ewa Beach, adding 20 minutes to your commute
Between 6:00AM and 7:30AM the traffic adds at least 25 minutes to your commute
For example, my commute from Kapolei to Camp Smith takes 25 minutes with no traffic. But as you can see, traveling at different times in the morning makes my commute from 25 minutes to an hour. By leaving very early my commute is normally 30 minutes.
Commute from Mililani to Hickam/Pearl Harbor
This commute is slightly better than coming from Ewa Beach. The merge onto H-1 will slow you down, adding 20 or more minutes to your commute time between 6-7:30AM.
Commute from Kaneohe to Hickam/Pearl Harbor
Due to the construction of the H-3 freeway, the commute from Kaneohe or Kailua to the other side of the island is a breeze.
You can expect this drive to take around 35 minutes. It's a better drive than Ewa Beach because there is rarely any traffic. The only traffic I've ever heard of is the tunnel getting blocked due to an accident. Besides that, it's smooth sailing.
Oh, and the scenery along this raised freeway is amazing!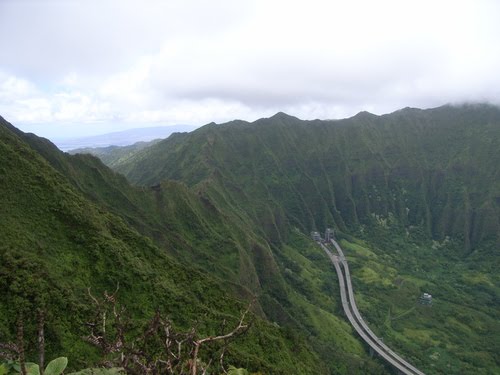 Traffic Near Waikiki
There is no easy way to get in and out of Waikiki, so expect it to take an hour to get there from most locations on the island. But there are no military bases in this area, so going to Waikiki is more of a splurge.
If you live at the Hale Koa while house hunting this may impact you. But come on, you're at the Hale Koa! There's not much to complain about.
How to Decrease your Commute Time
Hawaii has a "zip lane" that is open in the morning from 5-8:30AM. They allow cars with 3 or more passengers, motorcycles, and buses. A giant truck moves blocks into the west-bound lane, taking one of the lanes to make H-1E wider.
For most military it's not that useful because it's tricky to organize three people to leave and come home at the same time every day. But if you drive a motorcycle it's a slick way to bypass the traffic and get to Hickam or Pearl Harbor or the other bases in that area.
If you can organize a few folks, DoD has a great program that gives you a free van with gas to use as a commute car.
Useful Links
Hawaii Traffic Cameras – Best one to view is H-1/H-2 merge
Final Note: Speeding on O'ahu
I got a speeding ticket during my first week on the island. The top speed limit on the island is 65mph. But most areas on H-1 are 55.
The police like to hide on curves or on the incline of a hill. They park their motorcycle and stand near it with a radar gun. The first time you see this you will think a motorcyclist is pulled over on the road! The police are out checking for speeders often.
The police seem unforgiving and wrote me a ticket for the exact speed I was over. In addition, I forgot to put my insurance card in my glove compartment after I picked it up from the shipping company. So I got a ticket for that as well!
Friendliest Drivers in the US?
You may find crowded traffic in Hawaii, but what you won't find is rude drivers or hostility. You rarely hear a car horn on the island. I used it once when the driver in front of me failed to move at a green light. Everybody looked at me like I was an asshole!
Hawaiians are friendly when dealing with merging traffic, and usually take turns letting people in rather than blocking cars in a merging lane. You'll often see the "shaka" sign when you let someone in your lane, as a thank you.
[ois skin="Hawaii Optin"]